Why have UK media ignored climate change announcements?
Yesterday's announcement that 2010 tied for the warmest year ever recorded on Earth was ignored by nearly all UK media outlets. How can this be?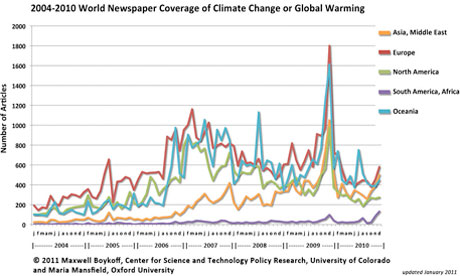 Believe it or not, record warming of the Earth no longer seems to be news as far as the UK media are concerned.
True, these announcements were made in the US, in late afternoon UK time, so they may not have been on the radar of many British news desks as these approached the deadlines for their printed editions. But that does not explain the lack of online coverage.
But a world record is a world record, no matter where it is announced. So why the news blackout in the UK?
I hope, however, that the real reason is that news editors now understand, and think most of the public also know, that global warming is happening, and that the Earth's temperature will carry on rising as long as humans continue to pump greenhouse gases into the atmosphere.
But for the rest of the UK media, it seems that was not news either.