Cambridge professor Peter Wadhams says he was misquoted in a story about the deaths of three leading British scientists in 2013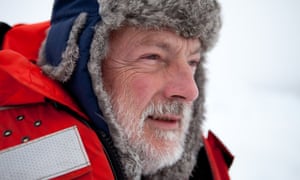 Peter Wadhams, professor of ocean physics at Cambridge University, during an expedition to the North Pole.
by The Guardian, July 27, 2015
One of the world's leading Arctic sea ice experts has responded strongly to a Times newspaper story claiming that he thought assassins may have murdered three leading British scientists in 2013.
Professor Peter Wadhams, Cambridge professor of ocean physics, has complained to the Independent Press Standards Organisation (IPSO) that his scientific reputation had been damaged by Times environment editor Ben Webster and that he had been inaccurately quoted.
The Times said it had a recording of Wadhams' comments and stood by the story.
The Times report centred on the deaths within a few months in 2013 of three leading sea ice scientists, two of them from University College London, and a narrow escape for Wadhams after a driver of an unmarked lorry reportedly tried to push his car off the M25.
According to Wadmams: "Webster ... asked for further details. I asked that this be completely off the record because of (a) the sensibilities of relatives of the deceased (b) my own scientific reputation (I did not want to be made out to be a crazy person), (c) the fact that these deaths were investigated and were very clearly simply an extraordinary coincidence.
"He [Webster] raised the question of whether they were murdered. I agreed that for a short time I thought that they were, since I had had the experience of being run off the road at the same time by a lorry, but that it was very clear afterwards that the three deaths were individually explainable accidents."
He further claimed that a promise of confidentiality was breached. "I did not make any of the statements enclosed in quotation marks by the reporter. Webster promised that this was in confidence and that if he wanted to use it he would contact me first."
A spokesperson for The Times said: "We have a recording of Professor Wadhams making these statements. Another newspaper [the Telegraph] subsequently reported that he had made similar comments to their journalist. We stand by the story."
Profesor Wadhams, who is head of the Polar ocean physics group in the Department of Applied Mathematics and Theoretical Physics, is a controversial figure in international science, going further than more cautious colleagues in predicting the final collapse of Arctic sea ice in summer months within a few years.
In an email to the Guardian in 2012, Wadhams said: "I have been predicting [the collapse of sea ice in summer months] for many years. The main cause is simply global warming: as the climate has warmed there has been less ice growth during the winter and more ice melt during the summer.
"Climate change is no longer something we can aim to do something about in a few decades' time, and that we must not only urgently reduce CO2 emissions but must urgently examine other ways of slowing global warming, such as the various geoengineering ideas that have been put forward."
http://www.theguardian.com/environment/2015/jul/27/arctic-sea-ice-expert-complains-to-press-watchdog-over-times-story