North Atlantic sea surface temperatures ran high in October
by Tom Yulsman, CEJournal, November 8, 2010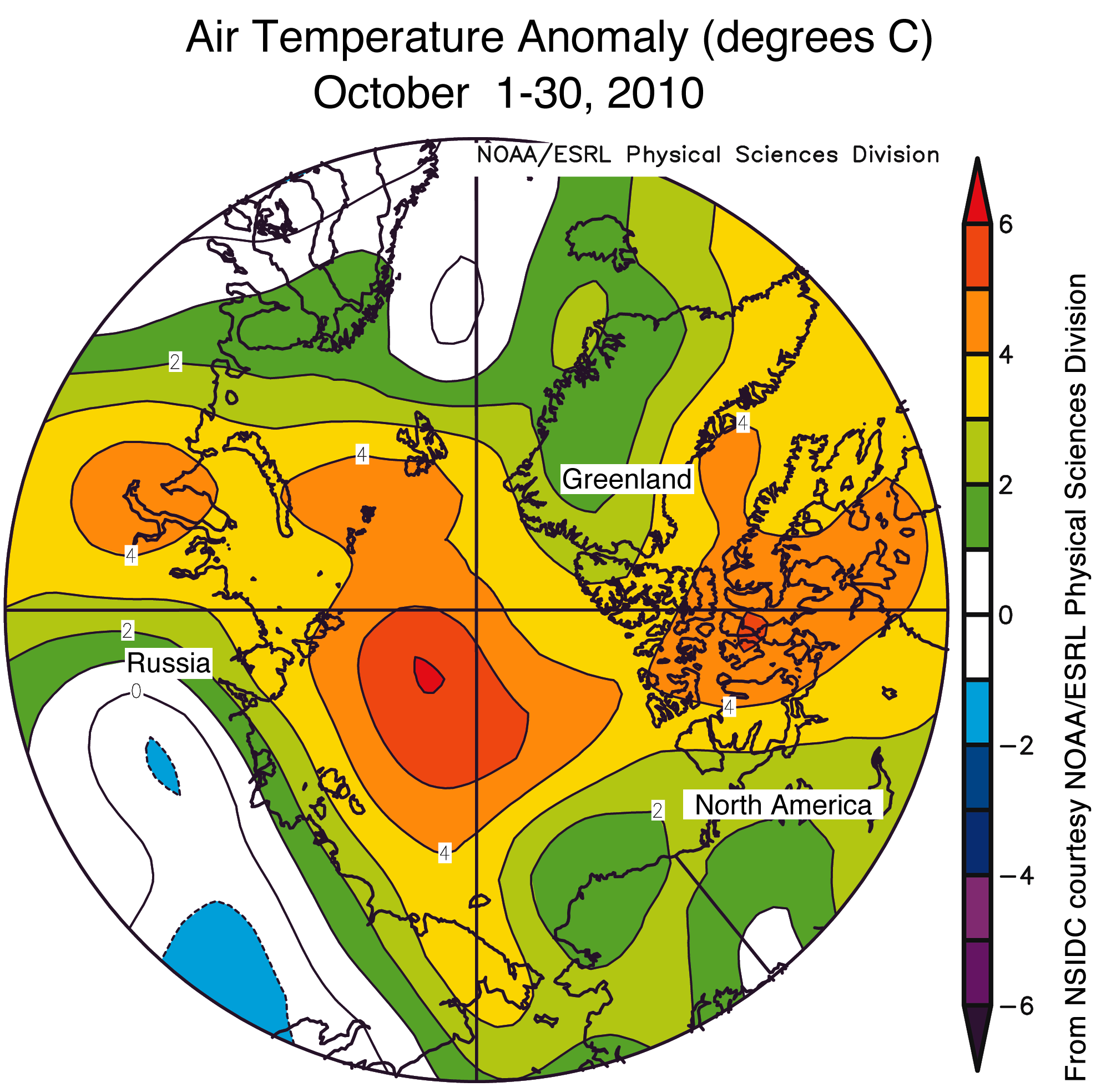 Air temperatures in the Arctic region overall, although below freezing, were also high in October, as seen in the map to the left. According to the
National Snow and Ice Data Center
, temperatures were 4-6 °C (7-10 °F) higher than normal.
"The warm conditions resulted partly from regions of open water releasing heat to the atmosphere, and in part from an atmospheric circulation pattern that brought warm air from lower latitudes to the Arctic," the NSIDC's
latest report states
.
The extent of Arctic sea ice in October was the third lowest for the month in satellite record, which extends back to 1979. Even at the end of the month, "extensive open water areas remained in the Beaufort, Chukchi, Kara and Barents seas," according to the report. "This region had the warmest ocean surface temperatures at the end of the melt season."
But there is one prominent exception. The long band of blue in the tropical Pacific indicates a pool of cool water associated with La Niña conditions, which alters weather patterns in several parts of the world, including North America. And by one measure, it's particularly intense.
Klaus Wolter
of NOAA's Earth System's Research Laboratory
is reporting
that in September and October, the La Niña was the second strongest on record for that time of year.
For more information, please see
my post
about this from Nov. 5, 2010.
Lastly: as this image from Remote Sensing Systems shows, air temperatures during October were also warmer than the long-term average across much of the globe — with the exception of the tropical Pacific.
The image shows what's known as the "brightness temperature" of the lower troposphere, as measured by instruments on orbiting NASA satellites. Brightness temperature provides a measure of the temperature of the atmosphere. For more information, see
this page
from RSS.