by A. Siegel, "Get Energy Smart! NOW!", July 6, 2015
Science combined with nature can turn
terrifying realities, at times, into gorgeous art. At this moment, there are
three active typhoons in the Pacific
. Above is an image capturing them.
This reminds me strongly of last August when the Pacific Ocean (centered around the Hawaiian Archipelago) had a major meteorological phenomena: a massive set of hurricanes.
Regard this image from that event.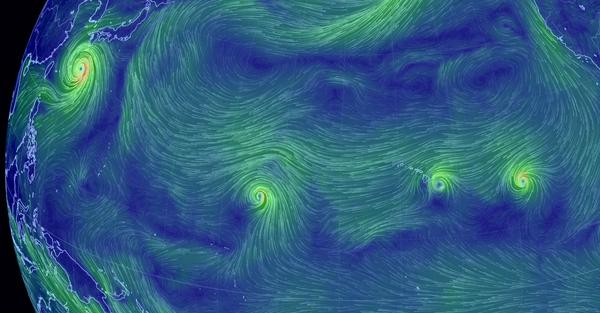 From West to East, these are hurricanes Halong, Genevieve, Iselle, and Julio.
Documentation of severe weather often provides quite striking and even beautiful images.
On first glance, last year and today, my impression was "Van Gogh, not
"storm disaster."
And, even when registering this as a rather impressive (and beautiful image from a) weather pattern, my first thought was not 'climate change'; yet, this set of four hurricanes is not just occurring within the context of global climate change but could well be a strong indicator of actual change.